Microsoft's Grand Opening at Somerset Mall in Troy MI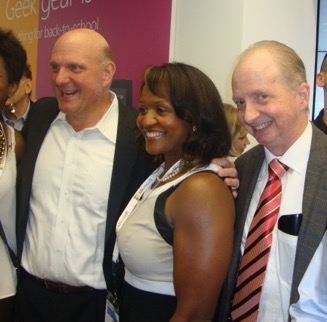 At the Grand Opening of the Microsoft Store in the Somerset Collection in Troy, MI the United University team had the chance to meet the CEO of Microsoft, Steve Ballmer, who hails from Michigan! The number of people that showed up for the Grand Opening Ceremonies filled up nearly half of the common area corridors on the second floor of the million square foot upscale mall. It was great to see people of all ages turn out, many wearing purple T-shirts given away by Microsoft to commemorate the occasion. While checking out the new store, we thanked Mr. Ballmer for returning to Michigan. This was only the second Grand Opening of a Microsoft store that he attended; the first being the opening near their corporate world headquarters in Washington State.
Also for the first time, Mr. Ballmer's family joined him at the Detroit/Troy Grand Opening. The new store has the potential to have an extremely high volume of customer traffic. Its custom made video screen literally wraps around the interior surface of the exterior-wall of the entire store. The wall allows gaming customers to get the chance to fully test out a new game or just to have fun with the new technology at the state-of-the-art Somerset Collection store. Microsoft also celebrated the Grand Opening by announcing its gifts of more than $2 million in software grants to charities in the area.